Map by The Transport Politic
Portland, that transit Valhalla, opens its newest light rail line today, the Green Line, which connects northern Clackamas County to downtown Portland, and adds a new North-South Transit Mall (with a re-routed , to compliment and alleviate traffic off of the original East-West Transit Mall. It's been in the works for near 35 years now, as the Portland Tribune writes in
this article
:
"The Interstate 205 MAX line – the latest addition to the Portland region's ever-expanding light-rail system – sometimes appeared to be the project that would never happen."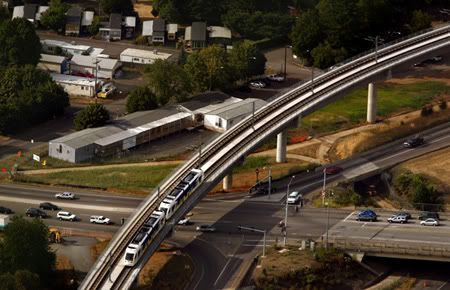 TRIBUNE PHOTO: L.E. BASKOW
It's almost like Austin's current
MetroRail
boondoggle, but instead of years of planning and rejection ending up in a unusable mish-mash of light and commuter rail, Portland went on with other projects, including the Red Line to the PDX Airport, and the Yellow Line up Interstate Ave., not to mention their superb
streetcar
endeavor.
But it is similar in that a suburban minority held back the project for everyone that could benefit from it; in this case, it was state and regional voters, including those in Vancouver, WA that rejected TriMet's requests for money, not suburban voters totally rejecting any idea of rail as in Austin.
"State and regional voters rejected funding for a line from Vancouver to the Clackamas Town Center through Portland and Milwaukie in the 1990s, forcing TriMet to find other sources of money"
So they succeeded by instead only building the section to Clackamas County, not the northern section into Washington (though that is eventually planned to be built). This, along with the recent Seattle Link LRT opening just go to show how behind in the game Austin is as far as transit. Everyone knows, CapMetro works nothing like TriMet, which of course has its flaws, but at least is competent, and with the assistance of the Metro government, has produced some truly inspirational transit projects. CapMetro has done nothing of the sort, which is why the City of Austin's separate
urban rail
project needs to be pushed through and worked out succesfully, so that Austin can have
real
rail transit like Portland.